1/4" - 1/2" UNF Thread Repair Workshop Kit
Part number: 3534-WK1
1/4" - 1/2" UNF Thread Repair Workshop Kit
| | |
| --- | --- |
| Part No. | 3534-WK1 |
| Barcode | 9326518077213 |
| Description | UNF 1/4" - UNF 1/2" |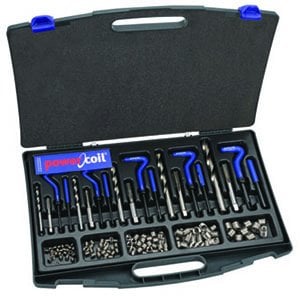 PowerCoil Wire Thread Inserts
Used to repair damaged or worn out threads, PowerCoil Wire Thread Inserts can also be used to create new stronger threads in original equipment. They provide a permanent, corrosion and wear resistant internal thread which is usually stronger than the original parent material thread.
PowerCoil wire thread inserts are manufactured from precision profiled diamond shaped stainless steel wire and formed into a helical spiral. They provide high strength internal threads that resist the effects of temperature and corrosion. Their unique design ensures superior threads whose compound performance cannot be reproduced by any other single fastening method. They are much lighter and less expensive than any other equivalent type of thread insert and because of their compact size they can generally be incorporated into existing designs where no previous provision has been made.
PowerCoil Workshop Kits are a perfect solution for workplaces requiring a range of wire thread inserts to be on hand, with the correct tools readily available. No more hunting around for the correct installation tool or tap - they are all there ready to be used!
PowerCoil Workshop Kits, available in MC, MF, UNC, UNF, BSW, and BSF, contain only the most popular contents, ensuring you always have what you need right at your fingertips.